LIQUID BLISS MASSAGE – Floating in 34°C Water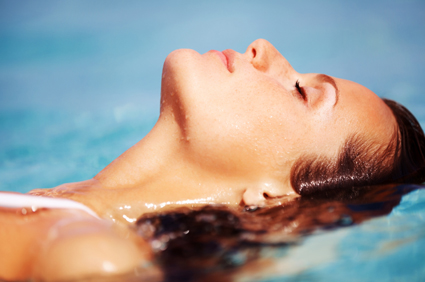 LIQUID BLISS MASSAGES
are three -dimensional massage works of art in the body of warm water.
In the first months, even before birth, we live and grow in the protective womb. Kept warm wrapped in flowing, almost weightless feeling of security we experience ourselves in an ocean of vitality ~ at the same time deeply relaxed and receptive, expansive and full of tender softness or sensuality.
The world of experience in body-temperature thermal waters ranges from a precious prenatal body experience, over mentally and physically soothing massage elements to advanced states of consciousness and emotions that feel simultaneously natural and self -evident.
The three-dimensional element of the massage movements leads to a unique stimulation of the locomotor system , the entire nerve and blood vessel system. Deep relaxation gets after such an experience often a new meaning.
The Liquid Bliss Massage is suitable for children, teenagers and adults , and allows your body and soul to learn deeply about unity, connection and detachment. A precious gift for yourself or loved ones. Have a unique experience of being lovingly pampered and experiencing something extraordinarily good this year.
LIQUID BLISS MASSAGE
solo treatments available starting at 75 minutes including resting time
plus respective cost for pool use
Go to > Massages Overview