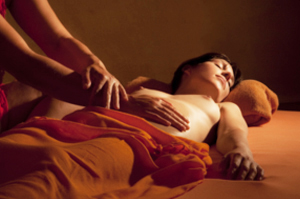 MASSAGE COACHING – THE MAGIC OF TOUCH
This coaching is adressing all aspects of bodywork – by yourself or with your partner. It is intended to teach the art of massage successfully or deepen already existing experience & skills. In a preliminary conversation we will clarify your desired focus and let the coaching then develop along these lines of interest.
Your coach's background ranges from experience originating from studies of disciplines like ayurvedic massages, swedish massage, LomiLomi Nui, thai massage further movement arts & preventative systems such as yoga and qi gong as well as many years of professional work. We are pleased to be able to pass this knowledge on to you in your personal coaching session.
MASSAGE COACHING
Starting at 120 minutes
bring your massage model or book one for through us
SUPERVISION
Starting at 2 hours The coach is simultaneously your model. This is only possible for experienced clients e.g. after several massage coaching sessions