FOUR-HANDED MASSAGE – INTENSE EXPERIENCES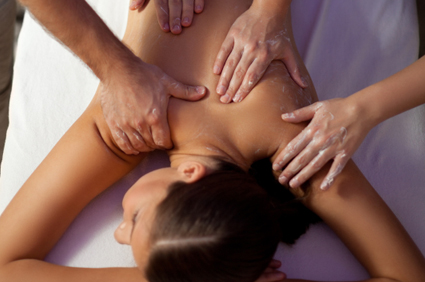 The FOUR-HANDED MASSAGE – a massage performed by two massage therapists in a skillful choreography – is an ancient and beautiful tradition – held sacred in many cultures as a way to enter the most harmonious states of being.
It often outperforms any preconceived ideas on how the experience could actually feel like – four attentive and sensitive hands flooding you with sensational touch. This massage is done with great care and all the tight muscles and " thirsty " cells can take in as much relaxation and new vigor. In this tempest of benevolence the mind can't help but relax – often much faster than the owner is used to it. The impressions are so wide in range that you can let go mentally and emotionally and entrust yourself to hose wondrous  four hands. Often after the masssage in the eyes of the receiver it can be seen: Thourough rejuvenation, being touched very deeply.  by a four-hand massage and almost puzzled. How seldom we see a double room with literally mindfulness of our being?
The synchronized massage is a true work of art. INdulge yourself in the presence, skill and sensitivity that is all there just for you. A unique gift to yourself or your loved ones.
The following massages are offered as synchronous massages :
AYURVEDIC MASSAGE
LOMI LOMI NUI – HAWAIIAN MASSAGE
KI-MASSAGE
HOT STONE MASSAGE
BODY CENTER MASSAGE
DEEP TISSUE MASSAGE
REFLEXZOLOGY MASSAGE
HOLISTIC MASSAGE
INNER JOURNEY & MASSAGE
ENERGETIC MASSAGE
We recommend after these intensive massages to schedule private time for some rest or for a nice meal to gently land in your day.
Go to > Massages Overview