MASSAGE GIFT CERTIFICATES ONLINE
Massage as a present ~ Sensitive, knowledgdeable & soothing touch is a wonderful present to give to a person you love – partner, family, beloved ones – or simply yourself. The 'Ganzheitlich Ich' Institute, Berlin is specialized in the art of touch in various traditions and styles and you can buy massage vouchers to let your body, mind & soul be pampered and given one treat after the other over an extended amount of time. All this is easily made reality with one of the 'GANZHEITLICH ICH' gift certificates.
Get it now in one of the following ways to savour the joy af making someone a present. Creating happiness in someone with a gift is one of the most rewarding experiences nearly as good as receiving this gif yourself. So choos your way to to it with a Massage Voucher from Berlin.
Planning a holiday in Berlin, prebook your Massage online or via phone or present a gift certificate to your partner or travel companions. Groups of freinds visit here regularily and are welcome guests for precious massages, too.
Namastè , Your GANZHEITLICH ICH team 
MASSAGE VOUCHER ON LOCATION
Call us for an appointment & then come directly to GANZHEITLICH ICH, Kaiserdamm 21, 14057 Berlin-Charlottenburg to choose from our select massage offers. Your voucher can be purchased in cash.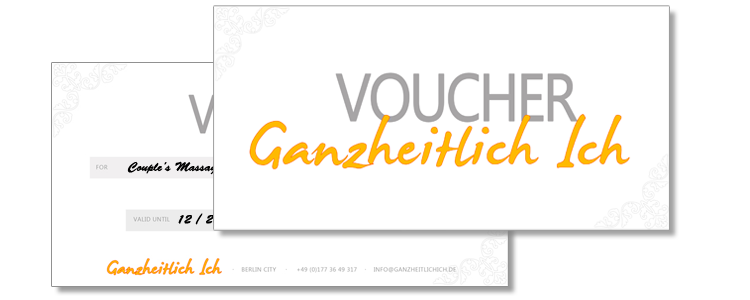 MASSAGE GIFT CERTIFICATE PER MAIL
Select your massage of choice and the length. Then send us the name and address of the recipient. Where do you want the voucher to be sent to via mail. Payment via bank transfer.
The voucher becomes valied upon payment & will be sent immediately afterwards. 
.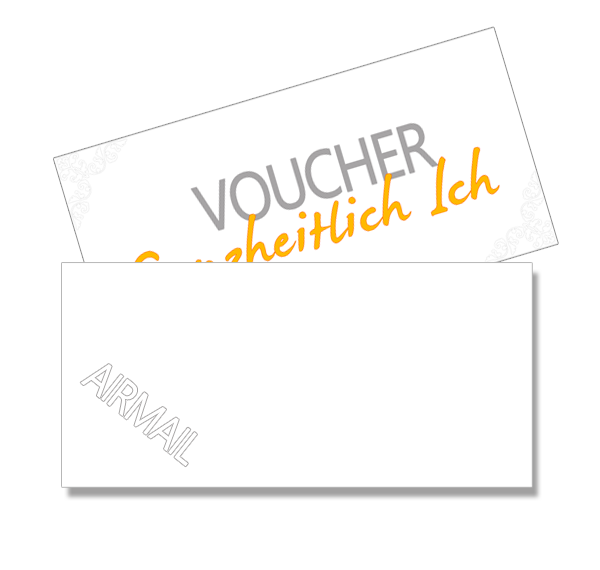 You'd appreciate tips to find your desired massage? The options leave you speechless? You have further questions or special requests?
Call us for orders or advice : +49 (o) 177 36 49 317
or send us an email to
info [ at] ganzheitlichich.de
Namastè , your  GANZHEITLICH ICH team
BUY YOUR MASSAGE GIFT VOUCHER NOW
and enjoy the magical art of touch made in Germany's capital, Berlin
Here some inspiration which massages are available for you to pick from – Have a look: